If you are planning to start a blog or your new job requires you to write content — you would do yourself a great favor by familiarizing yourself with some proofreading and grammar checker software.
These tools help transform your thoughts and ideas into perfectly crafted pieces that are devoid of grammatical errors, typos, and punctuation errors.
I know what you are thinking: I should be able to check my grammar and proofread my work myself. However, the truth is it is difficult to find mistakes in your own work. Particularly when dealing with strict deadlines, these tools allow you to check grammar online instantly. The fact is that even famous writers have editors and proofreaders who double-check their content.
So, if you do not have the luxury to hire an editor or a proofreader — you can rely on the best grammar checker tools. To help you choose the right one, we have reviewed the top 11 grammar checking software available online.
The 3 best grammar checker software – June 2020
RECOMMENDED
ProWritingAid is the grammar checker, style editor, and writing mentor.
Visit
ProWritingAid
Grammarly is an easy-to-use grammar and spelling checker.
Visit
Grammarly
WhiteSmoke is the editing tool with grammar and punctuation check.
Visit
WhiteSmoke
Top 11 most popular online grammar checkers
Grammar and punctuation check tools highlight grammatical mistakes in your text and give suggestions to improve the content. The tools also rectify issues in punctuation to make the message clear and to improve readability.
Such software offers countless benefits, such as saving valuable time and allowing the writer to improve their language skills over time. For this guide, we did some research and compiled a comprehensive list of tools to help with writing and improve the overall quality of your content.
Here is a list of some of the best online tools you can use for grammar checks.
1. ProWritingAid – best online grammar checker
2. Grammarly – easy-to-use grammar and spelling checker
3. WhiteSmoke – editing tool with grammar and punctuation check
4. Ginger Online – a well-rounded tool for text editing
5. LanguageTool – open-source grammar-checking tool
6. GradeProof – proofreading tool equipped with AI capabilities
7. Online Correction – editing platform with grammar checker
8. PaperRater – grammar tool with plagiarism checker
9. SpellCheckPlus Pro – intuitive English Language editing platform
10. Hemingway App – web-based grammar corrector and text editor
11. Scribens – user-friendly spelling, style, and grammar checker
---
ProWritingAid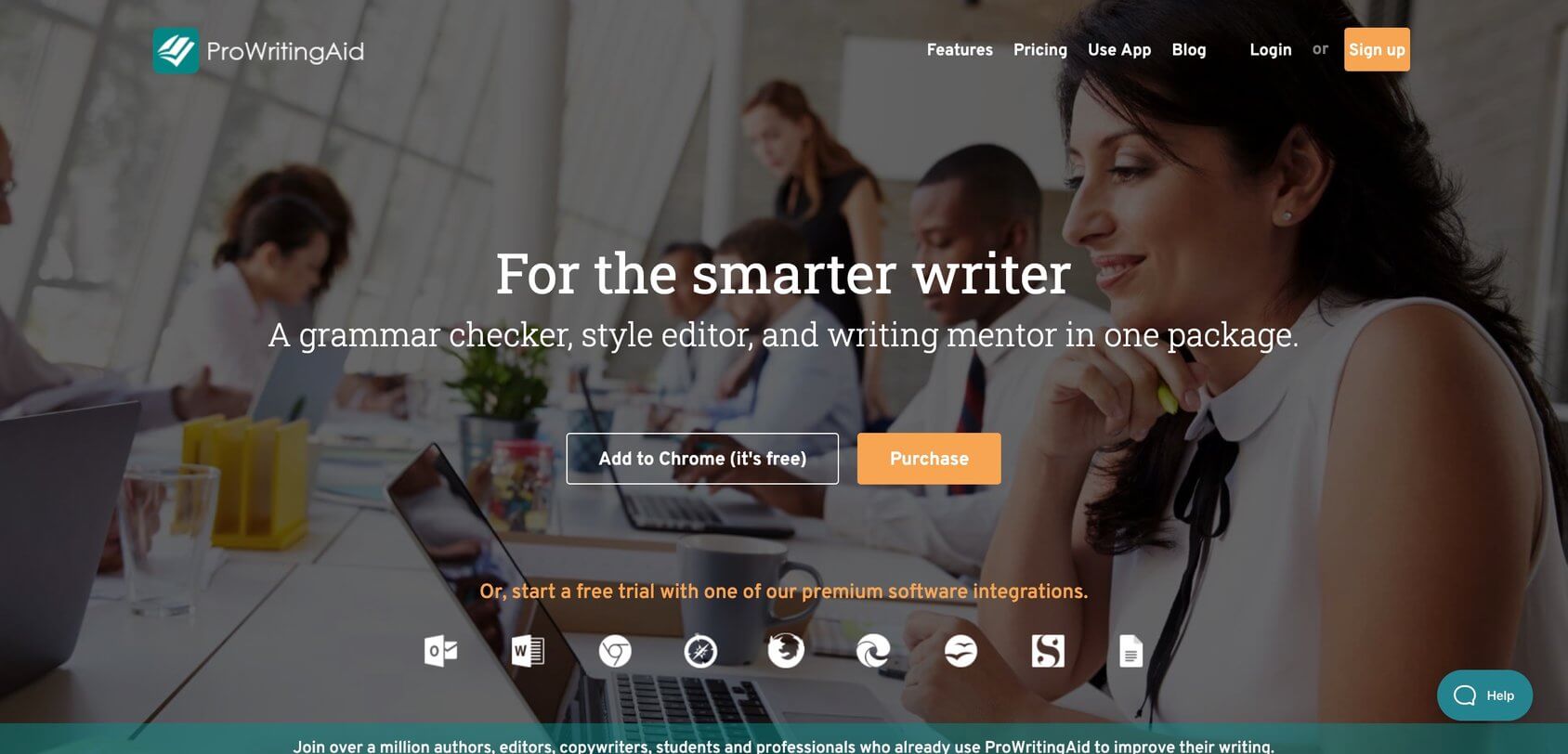 The tool is a grammar check online style editor, and writing mentor all in one. Not only does it help you write grammatically correct content, but it also removes errors along the way. With ProWritingAid, your writing will never be clumsy or awkward. The tool will analyze your writing to eliminate any inconsistencies, vague words, repetitiveness, correct use of voice, etc.
ProWritingAid does all this by generating 25 writing reports: Writing style, grammar, overused words, clichés and redundancies, sticky sentences, repeats, sentence length, pronouns, transitions, consistency, pacing, dialogue tags, readability, vague and abstract words, thesaurus, diction, alliteration, homonyms, corporate wording, acronyms, complex words, eloquence, combo, house style, and plagiarism. It is the only platform that integrates with MS Word, Open Office, Google Docs, Scrivener, and Google Chrome so you can easily edit whenever you write.
Key features
Contextual thesaurus reports
Mac and Windows support
Integrations with all major writing platforms
Word Explorer
Detailed error explanations
Context-sensitive style suggestions
Pricing
$70 for a 1-year plan
$100 for a 2-year plan
$140 for a 3-year plan
$240 for the lifetime plan
Visit ProWritingAid for additional information >>
Grammarly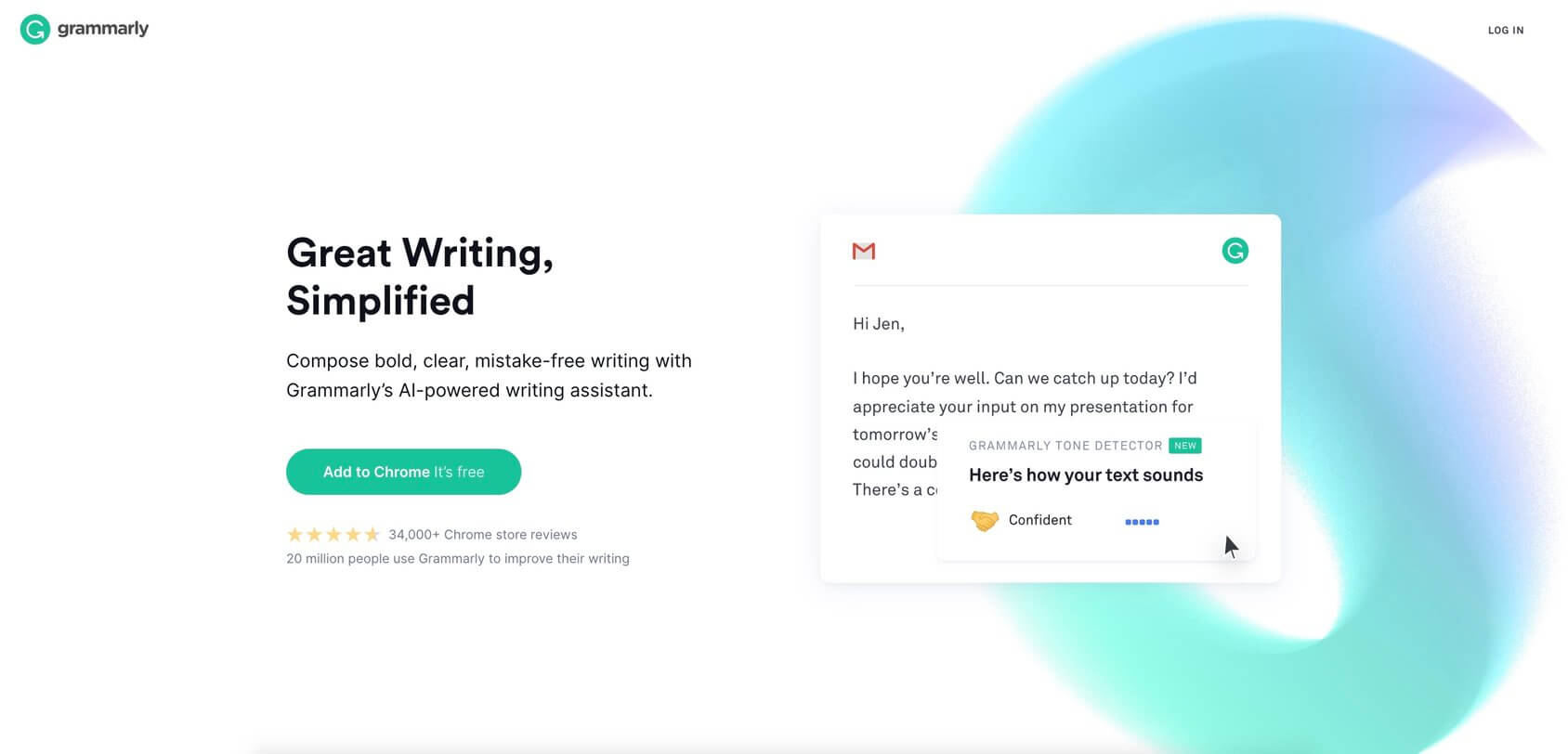 Grammarly is one of the most popular grammar checkers out there used by millions of people. It offers free online text editor and free browser extensions for Chrome, Safari, and Firefox. It can fix over 150 types of errors from your writing. When you copy-paste the text, mistakes will get flagged automatically. Grammarly detects errors such as punctuation, grammar, writing style, contextual spelling, and sentence structure.
For all your mistakes, Grammarly will give you an explanation of what you did wrong and offer to replace errors. It supports different writing styles, including blog posts, business texts, academic writing, and also supports both British and American English. If you use subject-specific words that are not recognized by Grammarly online, you can add them to the dictionary so that they don't get flagged the next time.
Key features
Performance stats
Plagiarism detector
Vocabulary enhancement suggestions
Desktop and mobile app
Genre-specific writing style checks
Pricing
Free plan with basic writing corrections
$11.66 per month on an annual basis with the Premium plan
$12.50 per month on an annual basis for each member with the Business plan
Visit Grammarly for additional information >>
WhiteSmoke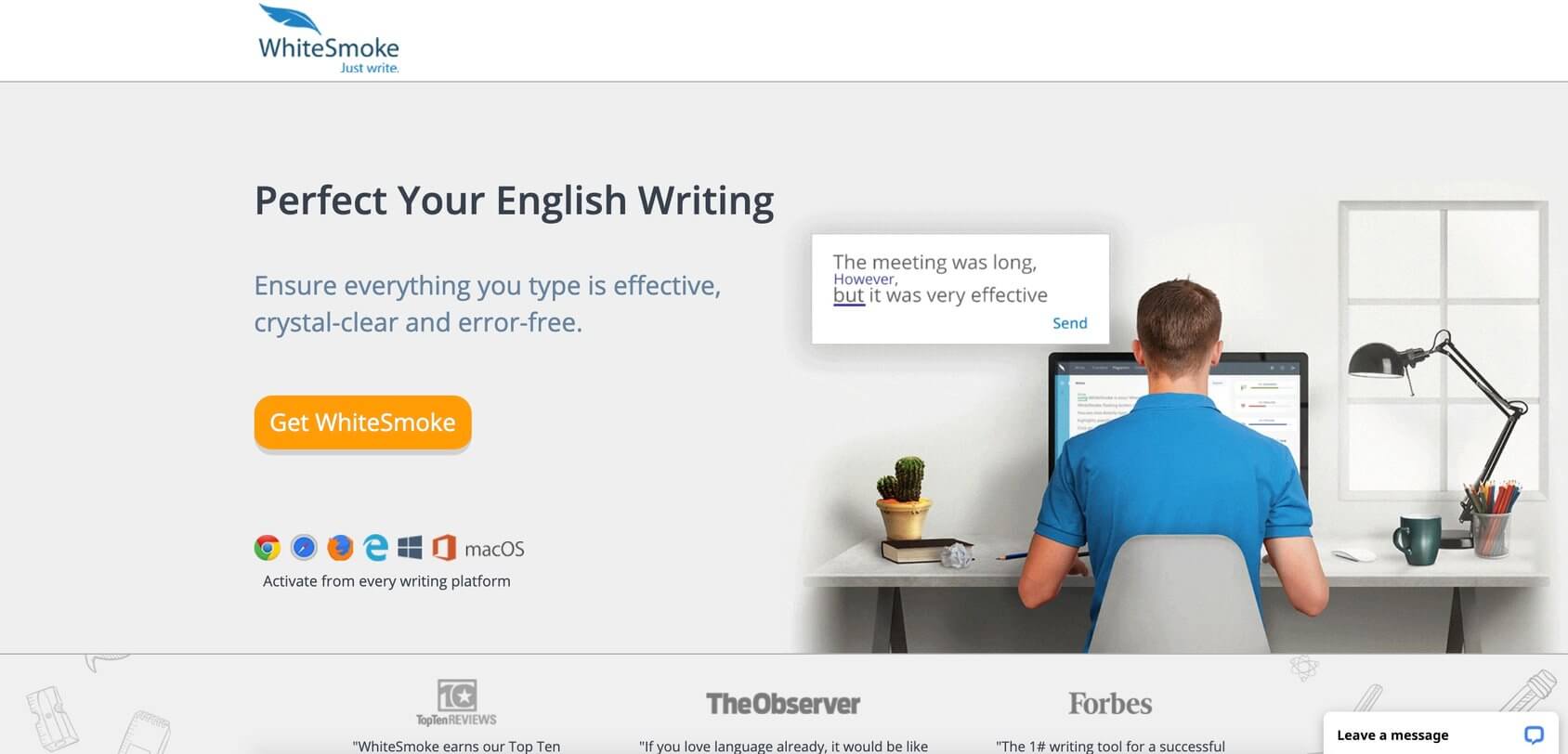 Apart from checking your text for errors, WhiteSmoke will also generate a report that will review and rate your writing. Rating is judged in six categories: Sentence structure, words, expressions, voice, length, and redundancy. Not only can you fix your writing, but it also gives you suggestions on where your writing needs improvement.
It is one of the best software for grammar checking, syntax, and spelling errors. It also does all these things in real-time. You won't have to cut and paste lines of text from one program to another to check whether it is free of errors or not. It works on most programs such as MS Word and Outlook. Additionally, it also syncs with web browsers like Chrome and Mozilla, along with other text-editing programs.
Key features
Proofread to perfection
English style checker
Punctuation analyzer
Full text and word-to-word translations to and from 55 languages
Pricing
Web service at $10/month
Premium service at $13.33/month
Business plan at $11.50/month
Visit WhiteSmoke for additional information >>
Ginger Online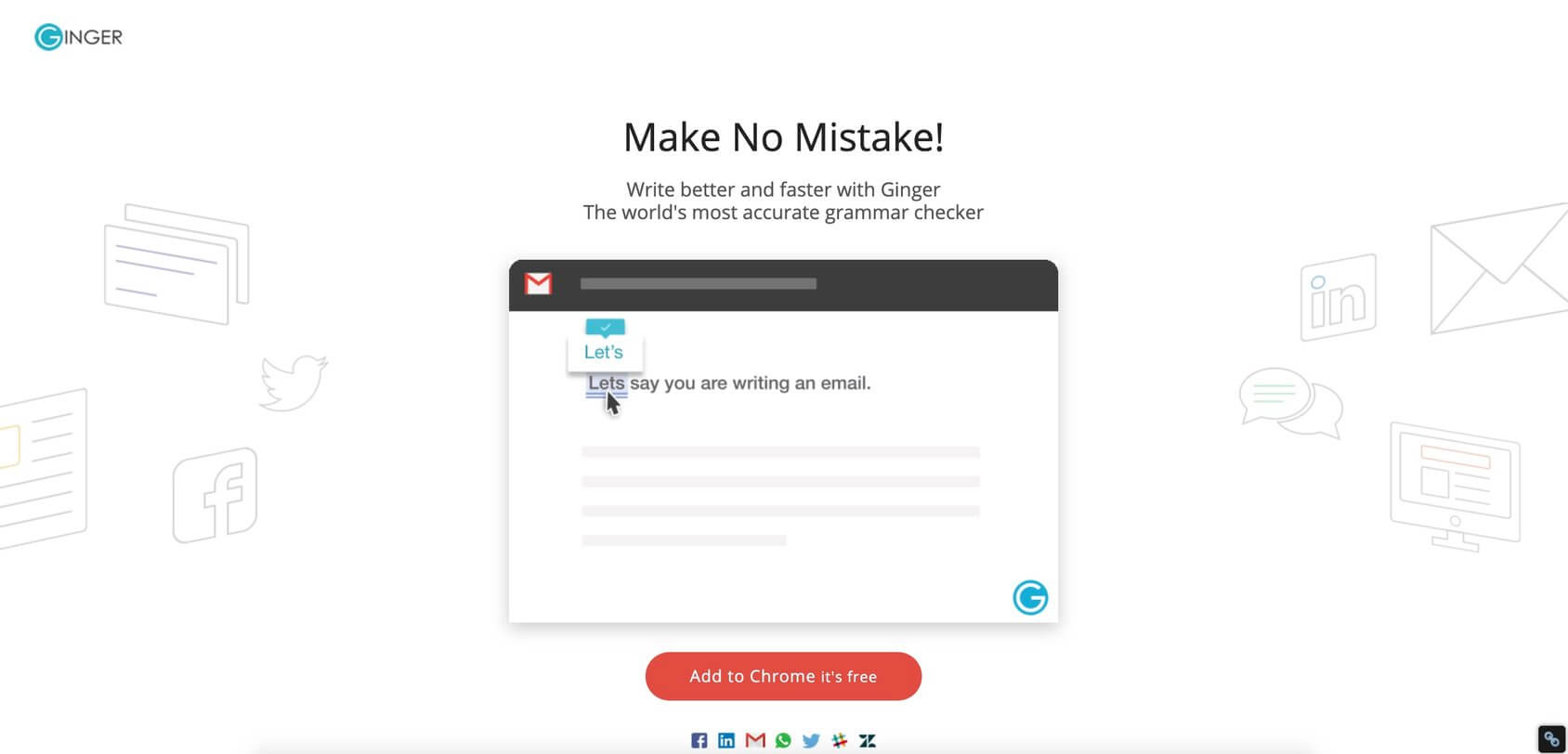 Another online grammar and punctuation checker which resembles MS-Word. Ginger has a lot of useful features and options. One of the best things Ginger has to offer and why a lot of people use it is the fact that it integrates with MS Word. It is also available for Windows and other browsers as well as Android and iOS devices — so people can use the software on their tablet or smartphone.
You won't have to upload documents into the tool or copy and paste it to MS-Word. Ginger supports British and American English and is designed to make up for where MS-Word fails, so these two work quite well together.
Key features
Contextual spelling checker
Improves vocabulary
Rephrases sentences
Translates to over 60 other languages
Virtual writing tutor with the Premium subscription
Pricing
Monthly plan for $29.96/month
Annual plan for $12.48/month
Two-years plan for $9.99/month
Visit Ginger Online for additional information >>
LanguageTool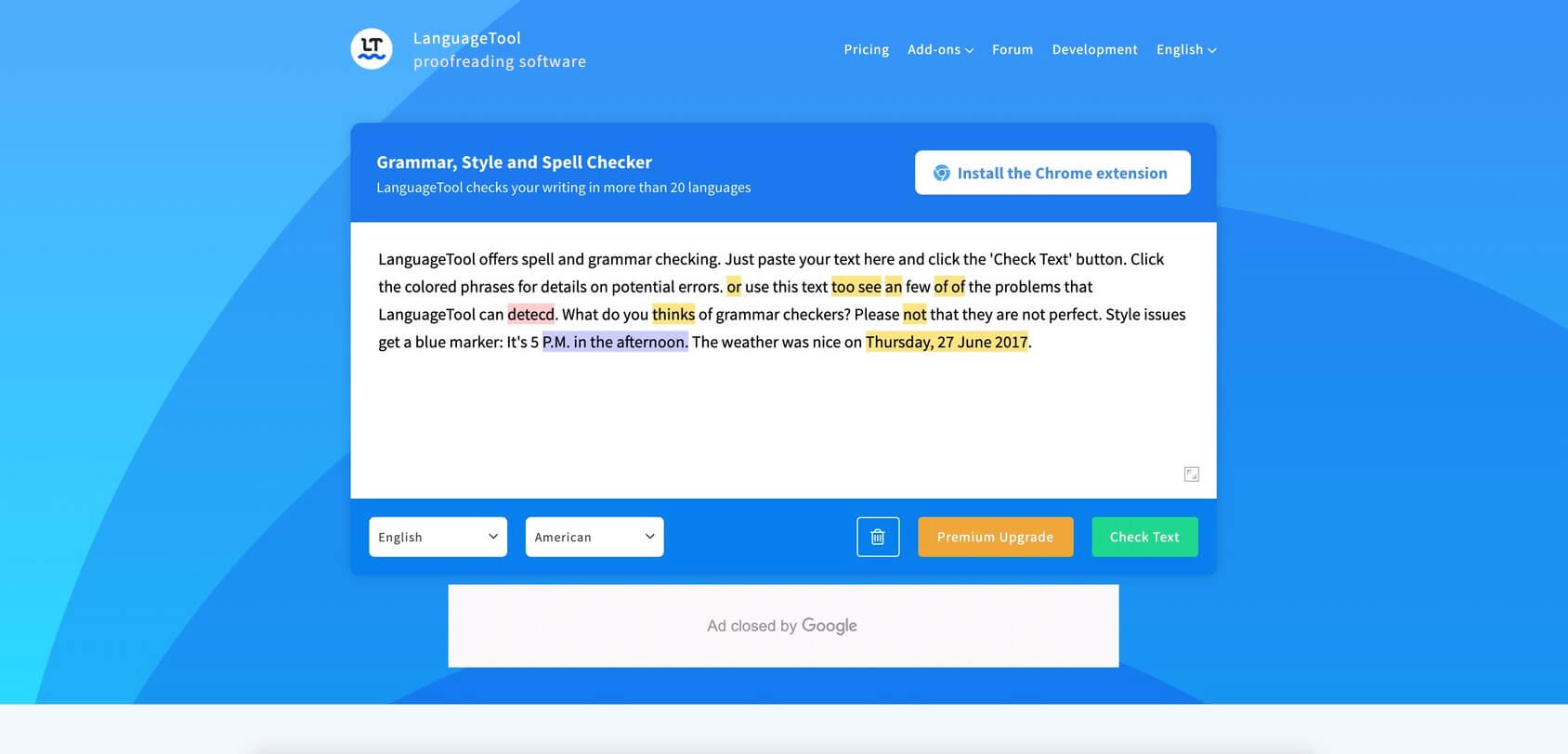 The first thing that makes the LanguageTool stand out from the competition is that it works in many languages. A free online trial is available for the grammar mistake checker.
That way, you can try it out and see what it offers before you decide to download the software and use it on your computer.
LanguageTool does not provide a lot of features, but the features that are available work really well. Many users believe the tool can find grammar mistakes that other tools leave out.
Key features
Allows to create a personal dictionary of proper nouns
Corrects grammar in multiple languages
Detects more than 2500 additional errors
Thousands of patterns for finding errors
Pricing
Free plan with a 20,000-character limit
$4.92/month for Premium plan with a 40,000-character limit per check
Visit LanguageTool for additional information >>
GradeProof
GradeProof is an advanced free online proofreading tool powered by artificial intelligence. Because of AI, the tool becomes smart over time. The more you write, the better it becomes with suggestions to improve your writing. The intuitive tool corrects grammar mistakes, spelling errors, and provides sentence checker suggestions.
GradeProof also conducts plagiarism checks by scanning for similarities with previously published content. The tool also offers writing statistics, which let you keep track of your word count, grade level, and readability score. It also allows you to set preferences. For instance, you can create your personal dictionary and configure writing and reading speeds. You can integrate GradeProof with Google Chrome, Google Docs, MS-Word, or your iOS device.
Key features
AI-powered suggestions
Plagiarism checker
Writing statistics, i.e., readability and word count
Ability to customize
Pricing
Free plan with basic features like Spelling engine, Grammar engine, and Custom Dictionary
$10 per month for the Pro plan with advanced features
Visit GradeProof for additional information >>
Online Correction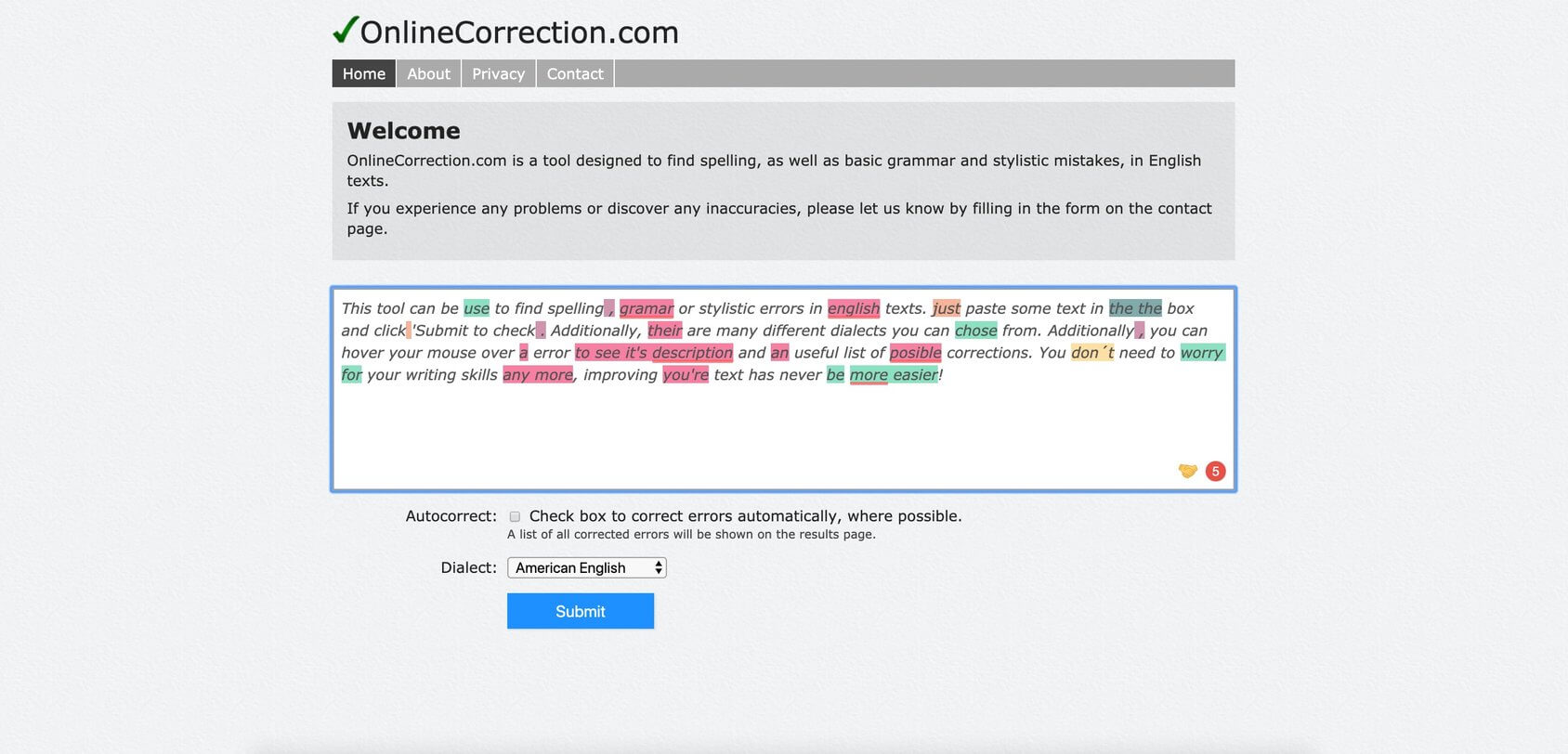 As the name states, the tool is an online grammar and punctuation checker. It lets you find grammatical, spelling, and stylistic errors in your text. It has an autocorrect feature where all the corrected mistakes can be seen on a separate page. The platform also offers several English dialects, including British, American, and Australian English.
Online Correction has a minimalistic design, making it a popular choice for people who do not want advanced options. It is created for people who want to carry out substantial checks on their text. It does not integrate with any other platform, but you can copy and paste your text on the website.
Key features
Easy to use
Auto-correction for different English dialects
Pricing
Visit Online Correction for additional information >>
Paper Rater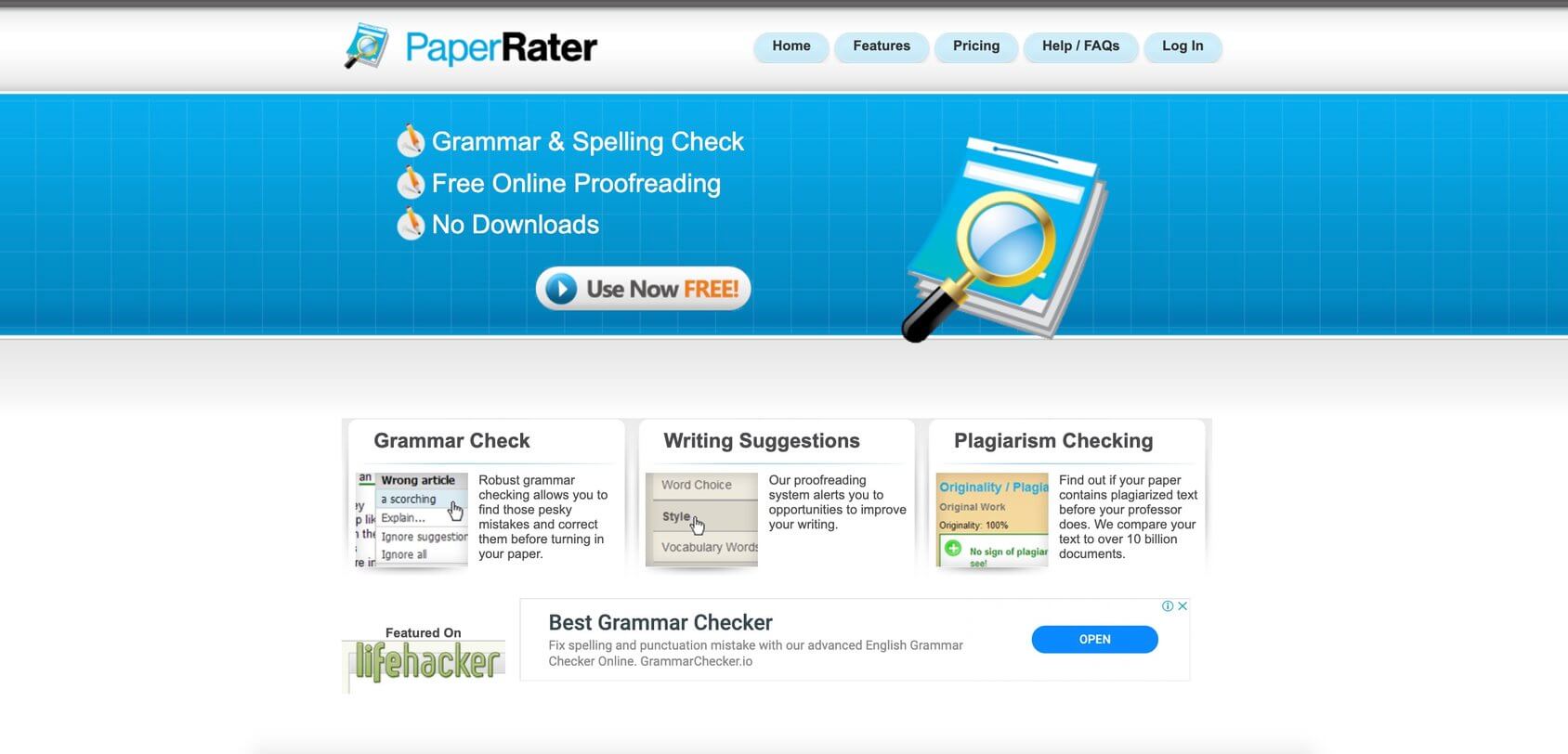 PaperRater is one of the most popular online spell checkers that also perform plagiarism checks. Apart from the fact that it works well, PaperRater is a completely free tool.
Many freelance writers, bloggers, and students rely on the proofreading and grammar tool daily. Paper Rater has over 10 billion documents stored on its servers and compares them with your text for similarity. It does not integrate with any platform, but you can check the grammar by uploading your article.
Key features
Automated scoring
Vocabulary builder
Generates results in seconds
Feedback and writing instruction
Plagiarism detection
Pricing
Free plan for 5-page submission or 50 submissions per month
$14.95/month for Premium Plan with 20-page submission and 200 submissions per month
Visit Paper Rater for additional information >>
SpellCheckPlus Pro
SpellCheckPlus is a decent online grammar editor tool. It is an online software designed for non-native English speakers.
SpellCheckPlus offers a free version, but with limited features. It won't offer suggestions, perform deeper analysis, or explain why something is incorrect. If you want to use all the features of SpellCheckPlus, you will have to switch to the Pro version.
Key features
Offers a free trial
Interactive grammar exercises
Personal writing archive
Pricing
SpellCheck Plus Pro is priced at $14.99 for a one-year agreement
Visit SpellCheckPlus Pro for additional information >>
Hemingway App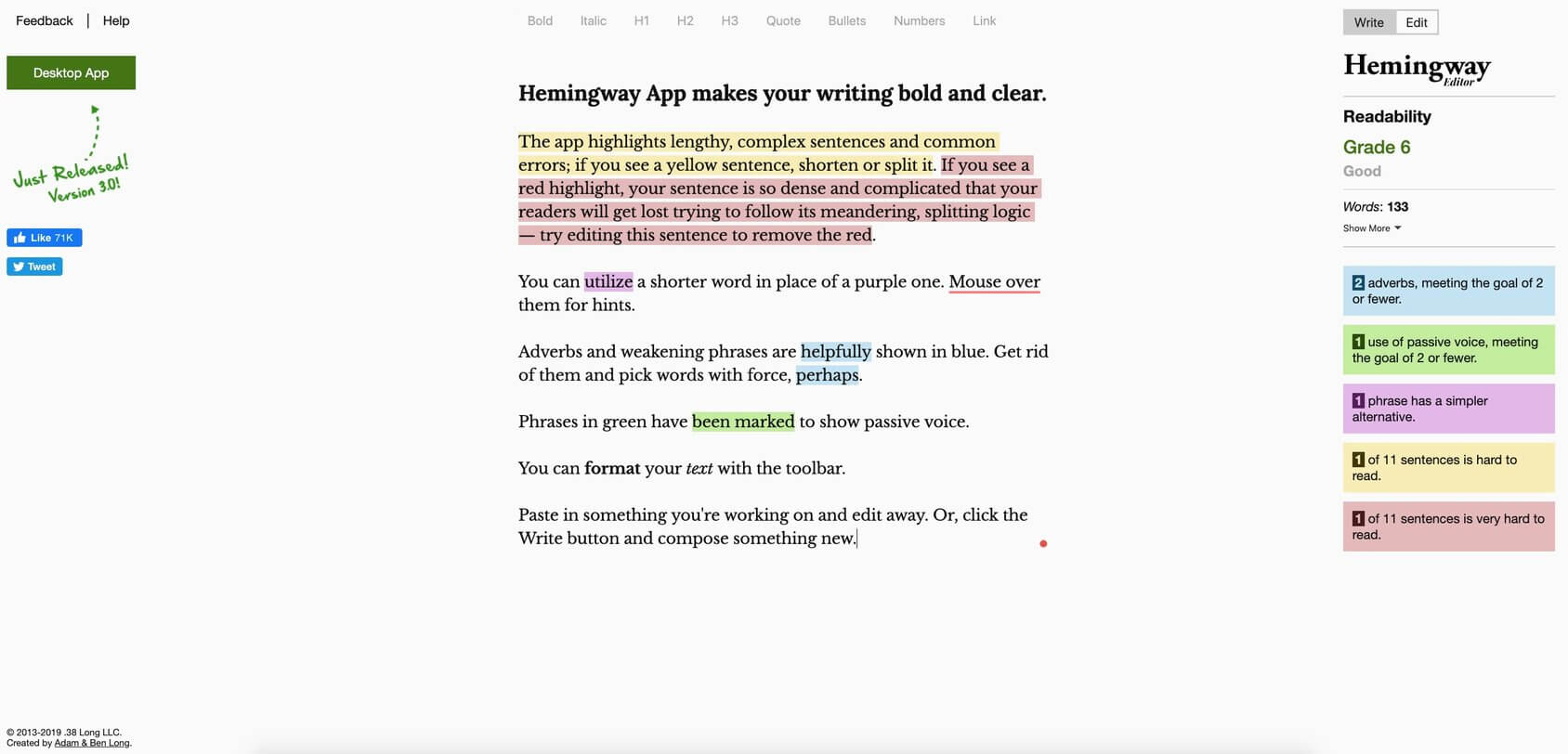 The app can correct mistakes and analyze your writing skills to give a readability score. If you didn't know, the readability score is the level of clarity of the text. The higher the readability rating, the easier it will be to read and understand. Apart from giving you suggestions on how to improve your style, the app also counts the number of adverbs in the text. It also points out passive voice constructions and provides a suggestion on how many you should use, based on how long the piece of content is.
You can also import text from Microsoft Word or other editors. But, the Hemingway App doesn't check grammar, nor does it proofread texts. Hence, the tool best suits copyeditors.
Key features
Write and edit modes
Formatting features
No Internet connection required
Send highlights to colleagues
Color-coded writing problems
Pricing
The latest desktop app is priced at $19.99 with a one-time fee
Visit Hemingway App for additional information >>
Scribens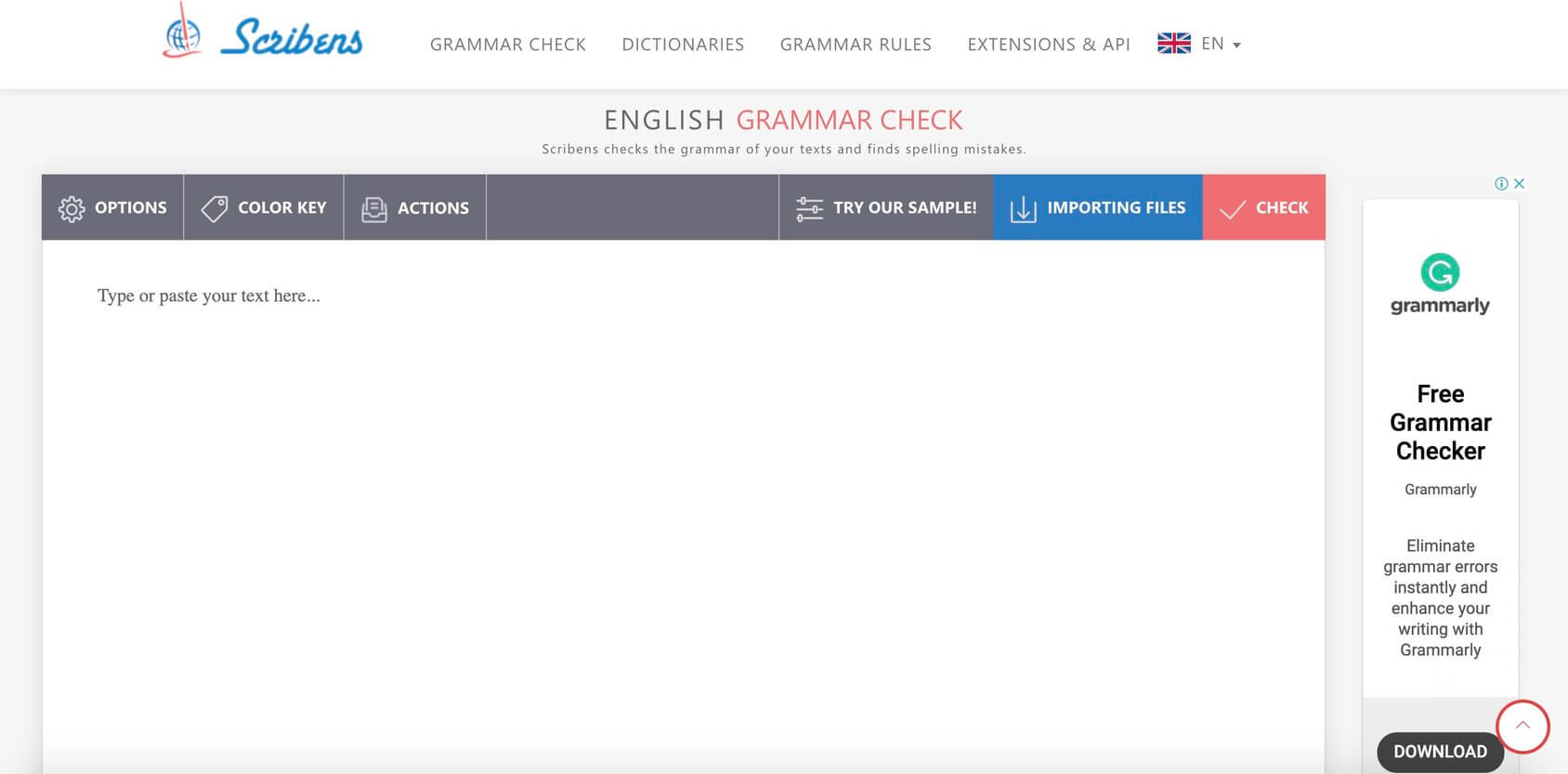 Scribens is a free online grammar, spelling, and style checker that supports English (British and American) and French. It corrects more than 250 types of spelling and grammar mistakes, providing detailed explanations for every correction. It's great for helping you improve your writing skills, as it also analyzes syntax and various stylistic elements. If your text has redundant or repetitive words or phrases, the tool will suggest proper adjustments.
It will also provide synonyms, definitions, and conjugations for all the words, as well as stats for improving your readability score. Scribens integrates with MS Word, Excel, PowerPoint, Outlook, LibreOffice, OpenOffice, Gmail, Hotmail, Yahoo!, Google Chrome, Mozilla Firefox, Facebook, Twitter, and LinkedIn. You can also add it to your website to ensure flawless blogging.
Key features
Syntactic recognition algorithm – correct the subtlest of syntactic errors
Stylistic suggestions – remove repetitive and redundant words
Dictionary and thesaurus – explore definitions, synonyms, and conjugations
Detailed error explanations – understand the corrections for better writing
In-depth statistics – improve your readability score, track the word count, and more
File importing – import an existing file for a complete grammar, style, and spelling check
Pricing
Visit Scribens for additional information >>
How to choose a grammar checker software
Grammar-checking tools can help you create error-free write-ups to improve your credibility as a professional. Each tool has its distinct features and usage. So, before you choose one, it is best to compare the tool against your needs and preferences. Here are a few things to consider when choosing a spell and grammar check software.
Price
When it comes to price, you have several options. There are a few best grammar checker tools that offer free unlimited use, but with limited features. If you are a native English speaker, this might be a great way to save money and still benefit from the software's ability to fix minor grammatical mistakes.
Grammar-checking software companies have different pricing options, based on payment periods. You can find one-time purchases, monthly, quarterly, yearly, and even three-year subscription plans.
The monthly subscription plan is convenient if you don't have a consistent workflow. You can decide when you want to use the tool and cancel the subscription afterward. The grammar correction software market is flooded, and you can often see these tools up on discounts. We suggest you find one that best serves your needs.
Type
All online grammar checker solutions can be divided into two categories, i.e., on-premises and cloud-based solutions — in layman's terms, tools that work offline and online. Since only you know when and where you prefer to write, you will have to decide accordingly. Offline grammar checkers are convenient if you are always on the move and don't have access to the Internet all the time.
Online grammar check tools come with many features and support different integrations. The bottom line is – if you find a tool that suits your needs in terms of integrations and features – make sure to check if it supports both an online and offline mode. Grammar editors also offer dedicated standalone apps for major operating systems, i.e., Windows and iOS. So make sure the grammar corrector you choose is compatible with the operating system you use.
Features
Grammar checkers are not only designed to help you improve your proficiency in English but also to make sure that your content is unique. Each tool has a specific set of features to offer. Some features are exclusive to certain subscription plans though, so do your research. Make sure to double-check the features provided by each plan before you make a final decision. You don't want to end up paying for a plan with features you may never use.
All features can be placed in five categories: Spelling, grammar, punctuation, writing style, and plagiarism checker. But these are the core functions every grammar checker will offer, more or less. Some software comes with additional features such as a personal dictionary, online editor, writing statistics, grammar rules, vocabulary, and so on. It is best to go with features you are likely to use — ones that can make your writing better.
Ease of Use
Are you a tech-savvy writer? Then you might be interested in grammar checkers with advanced interface options. If you don't have the time to go through all the neat tune-ups and want an app that seamlessly helps with your writing, there are many options for you as well.
Remember, ease of use also applies to the installation process. We suggest that you try out the tool you are interested in before deciding on one. Watch YouTube videos on the tool to assess usability.
Integrations
Integration is an important grammar checker feature, especially if you use Google Docs. As we mentioned earlier, some online checkers have dedicated desktop and mobile apps. It allows them to check your grammar and punctuation whenever you use your keyboard to type.
The tools also offer integration with a browser. Grammar checkers offer plugins for popular browsers, including Google Chrome, Safari, Mozilla Firefox, and Opera. It's worth checking out if you spend a lot of time corresponding with clients online, responding to comments on your online blog, and so on.
Best of the best
Students copy editors, and even professional writers use grammar and editing tools to improve their writing and to ensure quality in their write-ups. There are several reasons why people use grammar software.
Bloggers use grammar tools to make sure their writing is free of all errors and are quickly accepted by the website editor.
Teachers and students also use these platforms to make sure that they are issuing and submitting the right essays and content. Even website developers use the tools to improve the writing of web copy and to attract more visitors to a website. Quality writing instantly improves the credibility of a website.
The grammar checker tools improve the worthiness of a text with robust grammar solutions. Some of these tools are equipped with AI capabilities to ensure smart learning and give better suggestions for write-ups.
Best for grammar check
Grammar-checking tools are the key to avoid embarrassing grammatical errors in your papers. Regardless of your academic level or expertise, if your writing has mistakes, your credibility goes down.
The tools proofread every piece of content, identify spelling errors, and even suggest better words to improve readability. These tools can identify and rectify errors in a matter of seconds, which saves time.
These are the two best grammar-checking tools, in our opinion.
ProWritingAid
It is a premium grammar editor for bloggers, novelists, and business writers. It is easily accessible online for both Windows and Mac. It also supports integration with Microsoft Word, Google Docs, and Scrivener. It is termed as one of the best because of its remarkable features and ability to improve the overall writing.
Key features
Grammar rules and suggestions
Learn more feature that gives an in-depth explanation
Specific examples to help in comprehending a mistake
Grammarly
It is one of the most advanced grammar checker online tools available online. It scans your text for over 400 grammar rules, including subject-verb agreement, passive voice, and much more.
Key features
Explains grammar rules
Offers suggestions on tone, vocabulary and much more
Detects misused words and typos
Best for punctuation check
The incorrect use of punctuation can kill the meaning of a sentence. Even a misplaced comma can change the context of the entire sentence. Everybody can miss out on these errors. But several punctuation checker tools can help you get rid of these mistakes when writing.
Here are two of the best punctuation checking tools: let's dive in and explore more.
WhiteSmoke
WhiteSmoke has a state-of-the-art punctuation detector to help you analyze and correct your mistakes. This makes it an excellent choice as your punctuation checker.
Also, it is smart enough to identify less-obvious punctuation mistakes such as missing commas, wrong placement of semicolons, or unnecessary hyphens. It works as your tutor and guides through the mistakes to help you write better.
Key features
AI-integrated punctuation checker
Highlights errors and offers possible suggestions
Provide writing tips to avoid punctuation errors in the future
Ginger Online
This is one of the best punctuation tools that is available as a browser extension, and you can easily add it to MS-Word. It helps you improve your writing and corrects any punctuation error. Ginger's groundbreaking technology fixes these mistakes with the utmost accuracy. The tool has made punctuation-checking fast and easy.
Key features
Analyzes the context of your sentence
Single-click punctuation correction
Corrects error after scrutiny
Best free grammar tools
Most free online grammar checker tools do a good job of finding grammatical errors and offering suggested corrections. These free tools can be extremely beneficial for students to check their assignments, papers, and essays or for bloggers who can run a quick grammar check for any post they create.
Selecting the best free grammar check tool depends on the features that you require for an accurate grammar check.
Here are the two best free grammar check tools that can help you enhance your writing.
Hemingway App
Hemingway App is the easiest to use online grammar check free tool. All you have to do is go to its website, paste your text in the editor's text box, and check for mistakes. Not only does it check grammar, but it also detects the style and tone of the written content. It was designed to help the user increase the readability of a piece which is done by displaying a readability score of your content and improvement suggestions. Hemingway App has a clean and simple layout that can help you analyze your content quickly before posting it.
Key features
No content word limit
Five colored recommendations for clarity
Locates the overuse of passive phrases and adverbs
After the Deadline
It is another best free grammar checker tool that is available as a Google Chrome spell check extension. Once you have installed it in the browser, you will just have to click it and view the options. After the Deadline finds passive voice, redundant phrases, and complex expressions to report you so that you can work on them and write better in the future.
Key features
Jargon, double negatives and hidden verbs detection
Advanced style checking
Misused words detection
Errors explanation
Best iOS grammar apps
Learning grammar has become even easier with smartphones now. Several grammar iOS apps correct grammatical mistakes to help you read and write correctly.
So, if you are looking for an app that corrects your grammar on the go, you can read our analysis on two of the best iOS grammar checking apps which are completely free and can be easily found on the Apple Store.
CorrectMe
CorrectMe is a fast and user-friendly app to improve your writing. Not only does it correct all your grammar and spelling mistakes as you type, but it also uses a built-in synonym checker to offer suggestions for different words. While this app is completely free for all iOS devices, it does come with a pro version that you can purchase. The pro version offers advanced features, such as smart recommendations and grammatical explanations.
Key features
Detects contextual grammar mistakes
Detects spelling mistakes
Shows recommendations to fix them
Grammatical errors explanation
Speller
Speller is another cool app for iOS devices. It's an open-source spellchecker that combines multiple sources to help you find definitions. It is equipped with Spanish, American, British, and Canadian dictionaries. Being a spelling-checker app, it checks spellings as you type, helping you write error-free texts. It is a great tool to enhance your writing, especially for formal write-ups.
Key features
Instant feedback in the text field
Alternate spelling suggestions
Dictionaries available in multiple languages
Best Android grammar apps
Android smartphones are now more preferred than desktop computers as they are easy to use. So, if you want to check the grammar of your content on your android smartphone, there are several apps available on the Play Store.
Through these interactive apps, not only let you detect grammatical and spelling mistakes, but also let you learn and improve your skills.
Here are the best mobile grammar and spelling checker apps, all of which are completely free and can be found on Google Play.
English Grammar Spell Checker
This app is like a portable grammar dictionary that you can carry in your pocket. It corrects all your grammar and spelling mistakes as you type and helps you write error-free sentences. The app also comes with a text-to-speech option, which is perfect if English is your second language, and you want to learn proper pronunciation. The app can read aloud everything you type.
Key features
Provides 600 interactive activities
Designed for both beginners and experts
In-app help
Multiple languages
Spell Checker
The Spell Checker app is another awesome app for Android that can help you write sentences without any spelling mistakes. It's great for proofreading your texts, be those messages, emails, notes, or any other type of content. It doesn't include any grammar checks, but its spelling checks are more than useful. As soon as it detects a spelling mistake, it flags it and provides suggestions from its dictionary to correct the mistake. What makes this app stand out is the option to send your messages directly from the app. You can send messages to Facebook, Twitter, Skype, and other platforms, including email. This saves time, and the app even stores and organizes all your typed documents. The app also offers a voice-typing function, so you can save time and write quickly.
Key features
Saves all corrected documents
Voice to text input
Edit and take notes
Supports English, Russian and Armenian
FAQs
Why do you need a grammar check tools?
Good grammar is vital to make your content appear credible to the readers. Whether you write a blog, a long-form article, or an ebook, it is important to avoid spelling mistakes, punctuation errors, or grammatical slip-ups. Online grammar checks could only perform a handful of operations in the past, i.e., incorrect alphabet capitalization. But over time, the tools have become advanced and can fix grammar issues and suggest the use of the right words.
Unlike humans, this grammar software is capable of skimming through the content with precision, so you do not have to worry about leaving out errors unconsciously. The grammar checkers also make sure that you produce a well-crafted write up that can be easily understood by your audience.
How can I improve my grammar?
If you are a native English speaker, you might be aware of the basics of grammar, but there might be some areas where you need improvement. Therefore, to become a better writer, you need to practice speaking or do more reading to improve your command over the language.
You can also look for books on grammar or sign up for online grammar courses. They usually offer activities, quizzes, and games that can help you improve. If you use an online grammar tool, it finds errors and underlines them. Through such software, you can brush up on your grammar skills and avoid mistakes in the future.
How can I check my grammar online?
There are several online grammar fixer software that can help you check your grammar and identify spelling mistakes, verbs, pronouns, prepositions, punctuation, typography, and much more.
All you have to do is select the software of your choice, copy and paste your content in the text box provided, select the language, and click the Check Grammar button. The text checker will instantly highlight all the errors, with suggested corrections so that you can learn from them. Some online grammar check tools also allow you to upload documents saved in text or doc format on Google Drive or Dropbox.
Can grammar checkers work offline?
Yes, grammar-checking software like Ginger and White Smoke work offline. All you need to do is download them as apps on your PC. After writing a piece, you can run the software offline and detect errors.
What's the point of a mobile grammar checker?
A mobile grammar checker allows you to check and edit your writing on the go. The grammar checkers come as standalone applications that can be activated on programs.
How do I check my grammar on Chrome?
You can check your grammar easily on Chrome by adding plug-ins of different grammar-checking tools such as Grammarly or ProWriting Aid. By installing the extension and agreeing to the platform's terms and conditions, you can quickly eliminate grammatical errors when you write on a tab in the browser.
Conclusion
There are many choices when it comes to choosing a grammar checking software. To choose the right tool, you need to understand your needs and familiarize yourself with the features. For example, if the tool is too simple, it won't detect errors when you write technical content.
Take your time and go through each tool, try them out and see which one suits you best. Remember to work on your writing skills and keep improving. Although this software can be quite helpful, they can't make you a better writer unless you put in efforts!
In short, test the free versions of these tools and decide which one works best for you. For more questions about any of the best grammar checker tools above, you can get in touch with us.
Original source: https://firstsiteguide.com/grammar-checker-tools/